Desi jewellery is one of the many positive features about Pakistani culture and identity. It's fun and bold and gives the wearer an elegant, regal look. It's a way to connect with our roots while looking beautiful and appropriate for any desi occasion, particularly weddings.
However, we either have too much or too little of it. Alternatively, we may have as many as six earrings for a wedding ceremony but no necklace that goes with more than one dress. So here's the ultimate guide to 5 must have traditional jewellery pieces that are perfect for every desi wedding.
A Necklace Delicate Enough To Wear With Every Dress You Own.
Wearing a necklace will instantly make you look like a heroine from a movie in the best way. Paired with a shirt that exposes the neck and collarbone or with matching earrings, these necklaces will transform any look. For people looking for something that can be worn with almost any outfit, try searching for a style that is a cross between a collar necklace and a choker with only silver or white beads/stones. Even a thin, minimalist necklace will complement the outfit. Just keep the neckline in mind when planning on wearing one.
A Pair Of Bold Earrings That Looks Like Curated From A High-End Boutique.
Even the most ardent minimalist needs a pair of bold earrings to make their look more memorable. Most are lightweight and come in a range of styles and colours. If money is an issue, keep two earrings; however, they should be bold and eye-catching either way. Jhumkas are well-loved, but a Chandbaali has magical powers. Also, let's not forget that a magnificent pair of Chandelier earrings that catches the light brilliantly is just as beautiful.
A Gorgeously Crafted Kundan Ring That's Statement-Making And Delicate.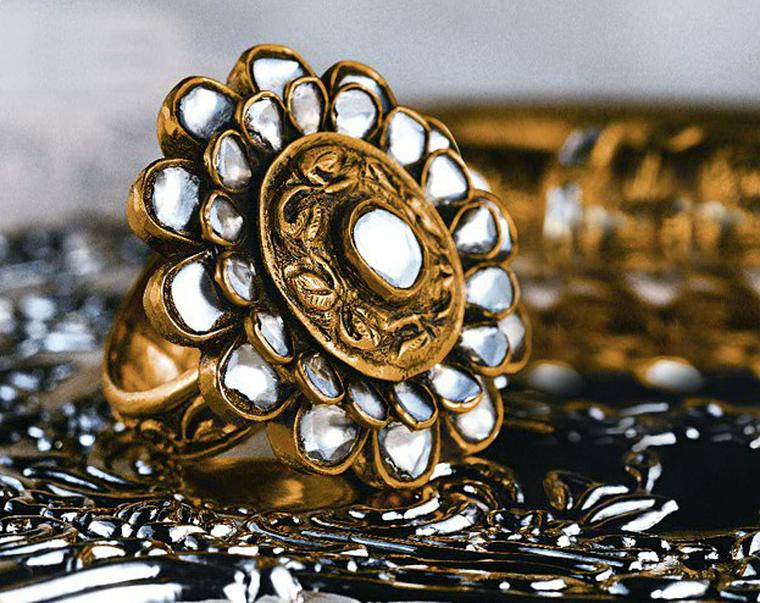 They can be worn on their own, for a minimalistic touch, or worn with a half-sleeved dress or even with a full sleeved kurta for added drama. Despite what jewellery companies will say, a decently attired plain fabric with a medium-sized ring looks much better when it's paired with large earrings.
A Matha Patti With Enough Bling To Make You An Eye Candy.
These can seem excessive and overtly traditional at first glance, but when worn, it's the only accessory you'll need! Thanks to new modelling trends, Matha Patti is being given a new life in the modern age. Even if you decide to forgo earrings and a necklace, a Matha Patti is more than enough for any outfit. Just make sure that they're light and not too over-powering. Also, keep the size of your forehead in mind. If it's too small, consider buying one that is more delicate and dainty in style and size.
A stunning bracelet you'll want to wear all the time.
Glass bangles are great when worn at mehndi. For a timeless and elegant look, a Kangan or Karaa that is at least 2 inches wide will have a magnificent effect on your ensemble. It can be worn on its own or paired with two similar ones that are thinner than the widest one. The style of your bracelet depends on the occasion and personal taste.
Hopefully, these pieces of fabulous jewellery will make your looks more spectacular and eye-catching. Don't forget to share your experience with us!