You should leave no stone unturned for looking beautiful each and every event of your wedding season. While you're busy reckoning out a gazillion things about your wedding day and bridal look, we'll give you one less thing to worry about: your bridal hairstyles.
It might be a bit tough to pick the right hairstyle for your reception that would not outshine your wedding day hairstyle, but make you look stunningly beautiful at the same time. Don't worry. We are here to help you out.
It's quite possible to get confused with the variety of options out there for bridal hairdos. So, whether you decide to go full-on bridal with a single or double dupatta, or a something more bride-chilla with a floral tiara or some other trendy hair accessory, you'll need an equally perfect wedding hairstyle to go along with it.
Well, I'm here to help you out with your wedding hairstyle! Whether you want to achieve a "traditional dulhan" look at night or to keep it neat and light during the day, our amazing list of best bridal hairstyles for 2019, the modern bride, will totally rock your wedding look!
Romantic Outward Curls
When it comes to wedding hairstyles, nothing can be more romantic than soft and beautifully flipped out curls cascading your shoulders. It gives an ideal quixotic vibe. You accessorize it however you want. Maybe a tiara or a flower crown would look amazing.
Fishtail Braid Covered In Jasminum Sambac (Arabian Jasmine)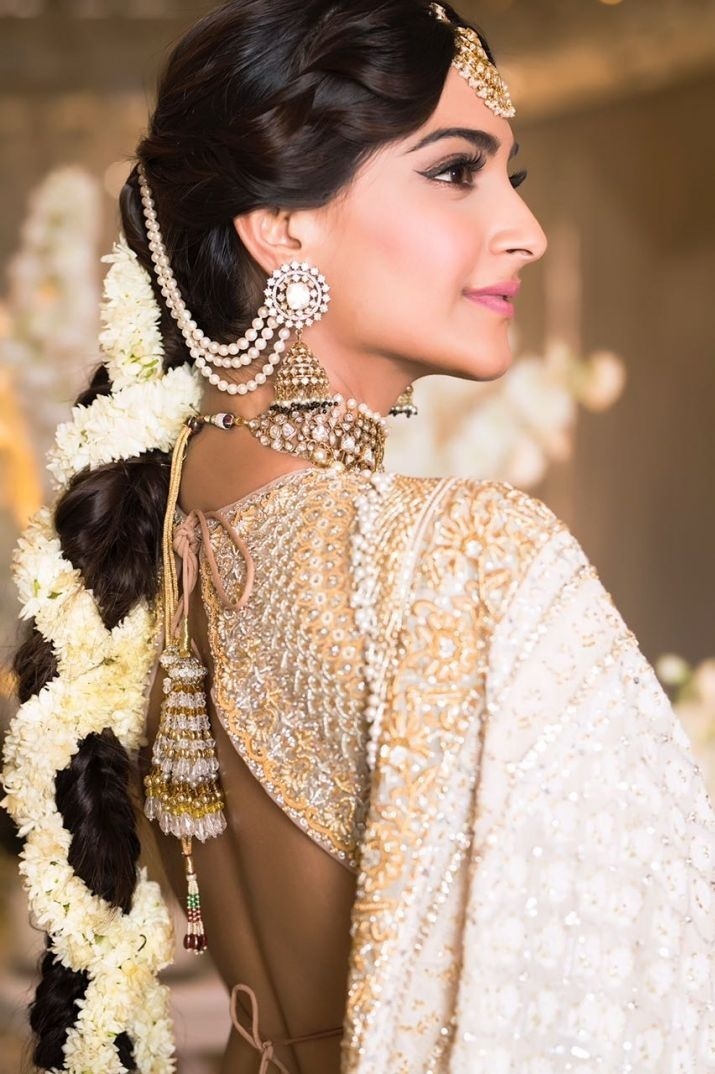 It's foretold to be spotted on a lot of brides in the coming times! It was a very classical, desi bridal hairstyle with a gorgeous long fishtail braid and a lot of Arabian Jasmine. It is a very traditional look, but with an edgy touch to it. You can get the idea from Sonam Kapoor ion her mehndi day. The long braid with flowers was definitely a game changer.
P.S: It's a great option for a bride looking for wedding hairstyles for long and thick hair.
A Sleek Bun
A sleek and sophisticated bun is another gorgeous hairstyle to get on your wedding. Besides presenting a look of elegance plus letting you wear your hair up, this bun will keep your manes and hair strands calmly in check and won't let them go everywhere and ruin your wedding look. Accentuate your bun with an accessory such as a waterfall brooch to hold your wedding look in place. Messy buns and low-slung buns are also great alternatives.
Braided Up-do
Going for a braided up-do is a very smart choice for any event. It is so classy and gives a happy bridal vibe. It is oh-so-sweet and absolutely adorable. You don't need to put on too much accessories to it, some small flowers will do justice. Just a fun braided bun will do the job and help you slay. Its no-fuss vibe is easy to maintain even through long, crazy dancing events. This style also frees up your shoulders and back so you can flaunt some interesting bling and ensemble designs, making it a great bridal hairstyle.
The Mermaid Braid
Mermaid braids are so elegant.  This looks like a mermaid's tail. This gorgeous curly hairstyle has been elevated to the next level with some twists and floral accessories. This is a perfect hair-do for your perfect wedding look. It's amazing how a simple twist can transform the most basic of french fishtail bridal hairstyles into something so incredible.
These were all the hair styles that we chose for you so that you can get your desired look. You can always make variations to these hairstyles to give a new and elegant look according to your dress of of the day. Don't do too crazy and over the board for your wedding look as it will cause you hassle. Keep it simple and slay all around.