With your wedding day nearing, you make sure not to miss out on any of the smallest details to look perfect on your special day. You buy your dress and you get yourself booked for your hair and makeup at the beauty parlour. In the midst of the wedding hassle, many brides forget to take care of their hands and feet. As your feet and hands are a part of your body, you should give them the same attention that you give to your face. Dirty feet with cracked heels or dark knuckles and chipped nails are a major turn-off, especially on your big day! Try not to neglect this part of your body by not taking care of it. You might ruin the look of your beautiful wedding day, Same goes for your hands. You wouldn't want to slip beautiful rings on hands that look dry and tired by the day's work. No worries. Shadi tayari is here.
Shadi Tayari brings you the easiest ways of all to fight the demons of your dirty feet and dry hands. You will have to start prepping your feet and hands for the big day in advance to make them appear soft, smooth and beautiful.
WASH DAILY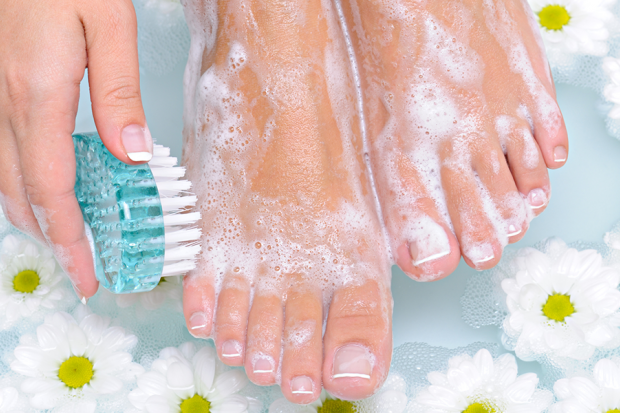 Make it a habit of washing your hands and feet daily with lukewarm water to keep them neat and clean. Water also adds moisture to the skin and makes it feel fresh and hydrated. You can also soak them at least once a day in warm water with some shampoo or hand wash in it. This will clean your feet while keeping them soft and smooth. You can also add some salt to the water. By adding salt your muscles will relax and you will feel much better.
TRIM YOUR NAILS
Trimming your nails is the very first thing that can be done to make your hands and feet look clean. Use a good and a sharp nail cutter to cut your nails in the desired shape. Make sure to avoid blunt nail cutters, as they will ruin the shape and the look of your nails.
NAIL FILING
You can remove the sharp edges on your nails by filing them with a nail filer. Nail filing also gives a proper shape to your nails. You can also use a nail buffer to give a smooth shape to your finger nails and also to your toenails.
MASSAGE
Massaging your hands and feet is an important part of your foot/hand cleaning procedure. Start off by applying a massaging cream or gel and massage the area gently with your fingers. Don't forget to massage around your ankles and at the back of your feet. Also, massage your knuckles thoroughly.
SCRUBBING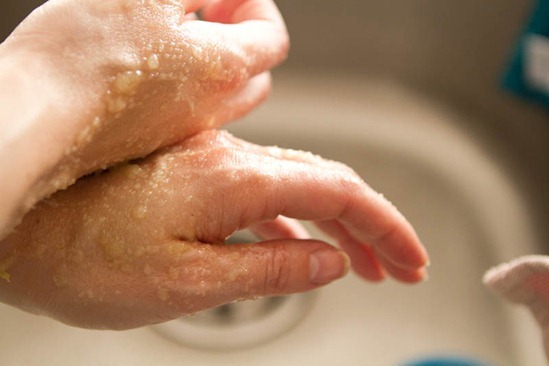 Scrub your feet with a foot scrub to remove the dead skin cells. The scrub moisturises your skin and adds softness. The best part about scrubbing is, that the little beads in the scrub will work wonders for your skin. They will remove the dirt and they will also remove the dead skin on your hands and feet. You can also use a foot scrubbing stone to scrub off the dirt and the dead skin on your feet.
SOAKING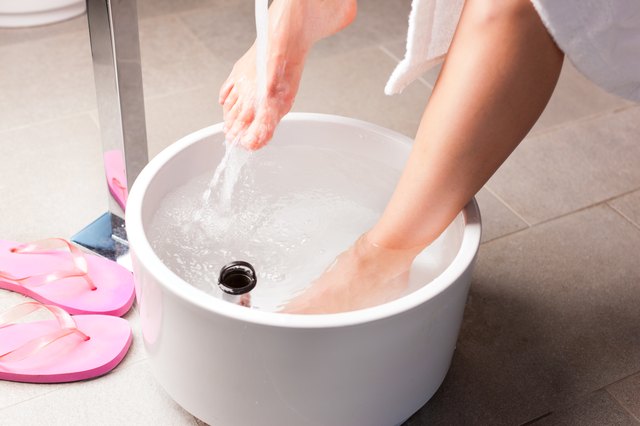 Now soak your hands and feet in a mixture of soap and warm water. You can also add essential oils and a pinch of salt to relax your muscles. Try soaking your feet almost every day, or at least twice a week.
MOISTURISE
Dry your hands and feet and moisturise them with a good quality moisturiser. A moisturiser adds moisture to your skin while keeping it soft and clean.
WEAR SOCKS/GLOVES
Wearing socks at night makes feet soft and smooth. Try wearing light cotton socks as they are airy and they will also help in locking the moisture in your skin.