From the bride, bridesmaid to the annoying kids at the wedding– the first thing that clicks our brain, when we think of Shadi ki shopping is the attire. And for girls, it's always lehenga. In Shadi season, choosing outfits can be boisterous. What started as traditional bridal wear now has seen a dramatic conversion, and thanks to designers, it continues to be profoundly popular.
Girls can easily modify their appearance and mood just by draping a lehenga dupatta differently, and if that's not enough, you have a million variants in lehengas – you can never have too many of them! When you are broke, and you can't afford to buy any new clothes, also, you can not miss the wedding events, but you have "nothing" to wear?
Even for brides – adding a new dupatta, or re-draping an old one is a sure-fire way to stand out.  You could have worn your lehenga once and had your photos all over Facebook but change up the drape the next time, and it will look like a spanking new outfit. Don't worry ladies. Today, I've created a list for different ways to style your lehenga. Get ready for the oomph-oozing styling for your next event.
Give An Edgy Vibe 
You can pair your lehenga with a crop top or even a fancy bralette. If you are bold enough and you like experimenting, this is a very unique and affordable way for you to give a new look to your lehenga.  Make your hair into a messy bun or let them be as they are (messy) and doll yourself up with jhumkas.
Use a Pretty Shawl 
This is great if you are attending any wedding in winters, you can easily carry a shawl and protect yourself from getting a cold but still look stunning. If you think that your that your complete lehenga look us not so complete and something is missing, some elements of grace even after the jewelry, make-up and your duppata, you might be right. Try mix and match different shawls that go with your outfit and wear that.
Use A Silk Or Banarsi Kurta 
Trust me girls, this works so well. Wear your lehenga, be it any color and just throw a contrasting kurta on top of it. If you are confused with contrasting, just pick a black or white kurta that would do the same. Grab an outclass clutch and there you go. Don't forget a lot of highlight on your cheekbones.
Throw Some Layers On 
Layering is always the best part of clothing, no matter if it's eastern or western. You can play around with the accessories and your hairstyles and look absolutely beautiful. This gives a very graceful western touch to whole attire. In this case, you can customize your outfit in a lot of different ways. One can never go wrong with styling themselves if they are fond of layering their outfits. You can wear fancy a shrugs, pea coats, blazers, leather jackets, long gowns or even a white shirt over your "not so classy" choli.
Drape a Traditional Saree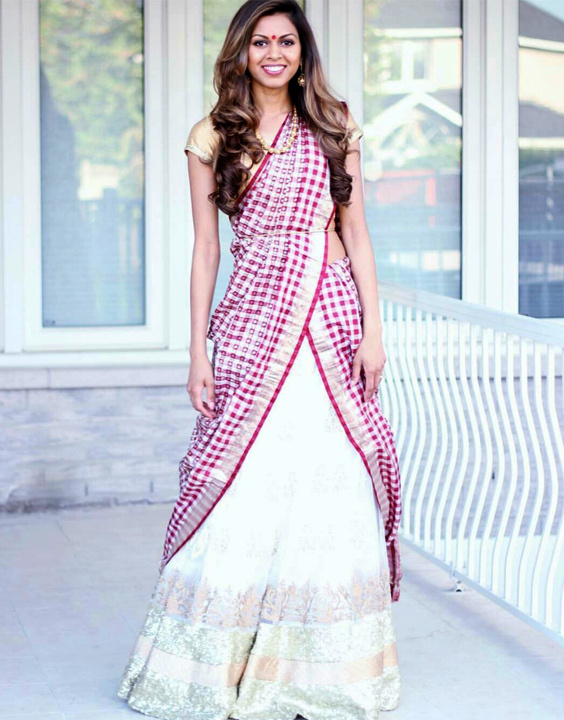 I can assure that you'll look drop dead gorgeous. Sarees can never go out of fashion. If you want a traditional look on the shadi event and don't want aunties to taunt you in shadi then you can definitely drape a delicate saree around your waist. Get your feet in high heels and accessorize yourself up with some jewelry and a small bag.
The Classic White Shirt 
Alright, so a lot of you guys must know the fact that a formal, plain white shirt looks good on almost everything. Just tuck your shirt in lehenga and leave first two buttons open to show them your beautiful collarbones. Pair it with an elegant neck piece/choker or a delicate necklace and just leave the hair untied. You are all ready to rock the wedding! You can definitely pair your lehenga with the white shirt.
I wasn't kidding when I said that we could never have too many ideas – and if you are smart enough, you will wear that one set (lehenga skirt and choli) in more ways than one. Are you the bride-to-be and want a lehenga for bridal shower? Even better, the bride's sister or best friend? You are totally allowed to wear whatever you like and go crazy with different styles. Just make sure to steal the show with which ever look you choose to go for. It's purely up to you. What is your go-to lehenga style? What do you like about wearing a lehenga? Did this article on how to wear a lehenga in different ways, helped you? If yes, go get ready and slay your day.