When it comes to the wedding, choosing jewellery is considered as a very risky and extravagant expenditure. And this is totally fair to consider whether it will hold its worth or not. The main statement of the bride's wedding attire is jewellery. In some cases, trendy jewelry nowadays, seems like a significant investment since it comes with a high price tag and gives you a magnificient (I am the queen) look; but disappointment sets in once the shine and glimmer of that jewellery starts fades, and investors are left with a senseless gewgaw that won't fetch much at all on the market.
Ladies simply love jewellery. Be it gold, silver or diamond. In Pakistan, we have some very creative and skillful jewellery designers. These jewellery designers are working very hard since ages to meet the requirements of ladies. While selecting jewellery designs, women are very specific and conscious, of, course we spend a lot on our accessories. For this, our best jewellery brands in Pakistan along with their jewellery designers think out of the box to produce some great masterpieces.
With this in our mind, here are five outstanding jewellery designers in Lahore that can help you avoid the mess and struggle of going back and forth in bazaars to find a quality jewellery maker. Keep in mind, part of the joy of investing in jewellery is showing it off now and then. Choose pieces that appeal your personality, and you'll be sure and satisfied that you are not facing any disappointment.
Shafaq Habib House of Jewellery –
If you are looking for something traditional and classic at the same time, this is the best option for you.  The jewellery designs of Shafaq Habib House are all exclusive. They are very stylish and unique in their own way. You can find rings, necklace, bangles and all variety that you can ask for. Choose your favourite design and slay your look. They are best known for their gold jewellery which is definitely eye-catching. Here are some designs that you might like;
Address: 94-D 1 Mall 1 Main Boulevard Gulberg 3 Lahore, Block D 1 Gulberg III, Lahore, Punjab
Solitaire Designer Jewellery –
Solitaire Designer Jewellery attempts to make themselves a benchmark in the industry, they have always been very progressive in their approach. They have been in a constant pursuit to give their customers the most exclusive and elite designs. Recognising the growing importance of changing trends, the store has exclusively dedicated sections to exhibit some of the most graceful jewellery designs in the market. At Solitaire Designer Jewellery Store, they believe in making their customers feel at home and ensure that they are completely relaxed while browsing through beautiful collections.
Address: Park Lane Tower, Mall of Lahore, 172 Tufail Rd, Cantt, Lahore, Punjab 54810
Ayati Designer Jewelry –
Dressed in stunning bridal wear with your hair pulled into a beautiful hairstyle and accessorised yourself with Ayati Designer Jewelry's valuable statement pieces, you will look both elegant and sophisticated. They have line, which is full of hand-made bangles, necklaces, earrings and everything that you could ask for on a wedding day is glorious and famous in Lahore made up of ethically-sourced sterling silver and gold.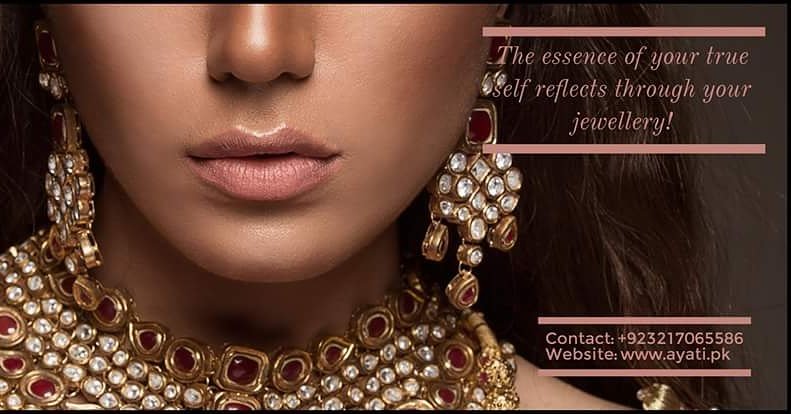 Address: Empire Center، G-19، Main Boulevard، Block K Gulberg 2, Lahore
Hamna Amir Designer Jewelry –
Hamna Amir Designer Jewelry is one of the top most affordable and renowned jewellery artists in Lahore. Their neck pieces are one of their kinds. They have the heritage of providing precious jewellery, watches, beautiful stone and pearls from the various part of the world. They work done so delicately and beautifully that it is perfect for making a bride the centre of attention. Let us show you some of the recent work;
Address: Agha Noor, M. M., MM Alam Rd, Block C 1 Gulberg III, Lahore, Punjab
Waseem Jewellers –
Waseem Jewellers is the best-selling store of Lahore. They're affordable, classy, look incredible, and frequently sell out before you even get a chance to visit them and select the best piece. Their work is absolutely mesmerising. It catches your eye, and you can't stop thinking about it.
Address: 22 Commercial Zone,Liberty Market, Liberty Market Gulberg III, Lahore, Punjab 54660
So these were the five best-selling and top-notch jewellery designers based in Lahore, only for you. These designers make the masterpieces for the individual who needs the addition to her look to feel exquisite effortlessly.