Are you a bride to be and trying to find a professional cake designer for your bridal shower and wedding? Congratulations, as you are in the right place. Most probably the real focus during the wedding ceremony is usually on the bride's beautiful dress, with guests shifting to gasp at her grace as she swings down the aisle. The wedding reception draws with it the chance to build another 'wow' factor with a lavishness of an oomph-oozing wedding cake and so finding the right luxury wedding cake designers to choose from on this all-important day is paramount. The best high-end, extravagance wedding cake designers create edible sculptures which would not look out of place in an art museum. These fairy tale creations evoke moments of awe as they are unveiled to guests, creating one of the stand-out significance of any special day.
Hour-upon-hour is filled with baking, sculpting, decorating and crafting to create these wedding wonder cake. Each cake is a marvel of proficiency, designed as a one-of-a-kind to enhance the theme of a couple's special day. Designers create exquisite detailing, from super realistic florals to complex lace patterns, bright and colourful tones to cakes painted so nicely that they look like water colours.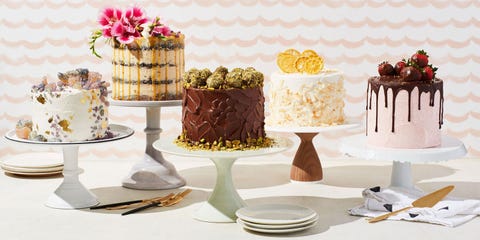 Don't worry, we will make your work easier. We have some suggestions for you of the best cake designers near you. Since there are too many great designers to name in just one post, we'll take it a few at a time so that you can really get to know these inspiring artists. You can go through them and if you like, you can go their Facebook pages and they will definitely help you.
We are presenting a list of cake artists to you. Here are some of the world's most amazingly talented wedding cake designers, and their jaw-dropping creations, so are you ready for these extra sweet suggestions?
The Red Riding Hood Bakery –
This is an amazing bakery located in Karachi that offers fabulous wedding cakes as you like. You can customize any type of cake that you want with tons of design options to go with your theme. The red riding hood bakery  features intricate, unreal, elegant flowers and sculptures made out of sugar paste and fondant along with sophisticated detailing such as artistic colours and complex patterns.
For any queries and order, visit their Facebook page
YUM by Amna Tauqeer –
Amna Tauqeer is a very popular and talented cake designer based in Karachi. She is a baker in real means and when you see her cakes, you can tell that she is extremely creative and loves her work. Her artistic creations have included marble effect icing, dotted with edible crystal, which looks as if you aren't just digging into a delectable cake, but that you've just discovered a hidden cave full of jewels.
For further queries and order, visit their Facebook page
Emaan's Cake ­–
Emaan's cake is under a very hardworking girl. She have magic in her hands. The way her cakes look are unbelievable. She will ensure that your wedding cake is unique and beautifully designed. She will design your cake according to your theme without giving you a single hint of disappointment. Emaan's Cake is amazing at her client services too.
For further queries and order, visit their Facebook page
Sam's Cake Factory –
Sam's cake factory, with enormously talented chef's beautiful cakes. Putting your trust in them for your wedding cake will be the easiest thing you do. The inspirations in the cakes of Sam's factory can strike you anytime. Some of their creations are classic and elegant while others include pop of colours and different patterns.
For further queries and order, visit their Facebook page
Ganache' –
A bakery that is known to specialize entire cakes to make your wedding day a success.  Guarantees excellent designs and tastes for all your wedding occasions. Ganache have included shades of mesmerizing colours, adorned with matching art works and finished with delicate sugar sculptures. Their sophisticated cakes will make you drool over them.
For further queries and order, visit their Facebook page
Sacha's Cake –
They are awesome and can put together an outstanding wedding cake that will not only dazzle the eyes but your taste buds as well. The phrase "Pop of Colour" could have been coined for Sacha's creation in real means, whose cakes features in bold shades adorned with contrasting decorative detailing in accordance to the themes and events.
For further queries and order, visit their Facebook page
To sum up, these cake designers fulfills the cravings of desserts with a bang on variety. There is something different with every one of them, the uniqueness and creativity is out of this world. All the cake artists mentioned above are worth to trust on. They will provide you with the best services that you could ever ask for.
Didn't we just make your life a bit easier? Just sit back, relax, grab a cup of tea and read all the reviews. Select one that satisfies you and go for it. It's not that complicated and you can trust these bakers blindfolded.