There are many types of brides – the 'you aren't doing anything for my wedding' one to 'I want to do everything my way'! We have gathered a few descriptions of the most common bride types for you! Feel free to have a look through and see which one you fit in.
The Not-so-Generous Bride
This is the bride who finds everything very expensive for her wedding. She might go out of her way to find the cheapest possible things for her wedding from every nook and corner of the city! She might take inspiration from DIY videos, Pinterest boards or simply by recycling previous items! We must say that this kind of a bride is very creative and sugharr!! She might go out of her way to get her own dress made as well! Who needs a designer when we have a bride like her!
Godzilla or Bridezilla?
This is a very common type of bride that everyone is familiar with and many fear. She needs nothing but the best! And nothing is good enough for her! The flowers aren't fresh enough, the music isn't right, the colours are off and of course, the maid or matron of honour can get nothing right. She yells in an attempt to scare everyone into seeing things her way and even her husband-to-be is a little frightened by her tone.
The Care-Free Bride  
It is still not clear why this bride is even choosing to get married or have a wedding. She refuses to wear traditional wedding colours for her wedding and takes the least interest in her wedding preps! She is likely to say no to flowers and will be a little hard to convince that flower girls are actually nice to have at a wedding.
"Bachpan Se Shadi K Shouq" Wali Bride
This is an excited bride that has had her wedding planned since she was five years old. She's eager to wed her Prince and will spend a great deal of time and money planning the perfect ceremony. Castles, colours and creative imagery are in this bride's future.
The "Abhi Tou Time Hai" Bride
This bride type is the most chilled out!  In fact, she usually leaves every detail till the very last minute. She spends a great deal of time making plans to do things later, instead of taking care of them at the moment.
The Panicking Bride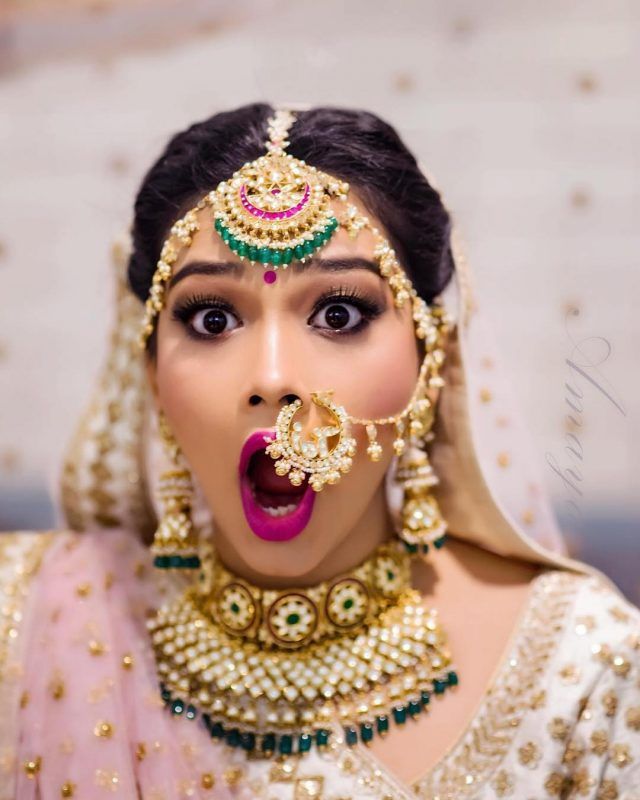 This bride will freak out the most! She generally depends on her best buddies and family and calls for support. She will panic each time there's a strike in the city or bad weather – she will stay worried until she gets married! So it's best to comfort and support her!
The "Daddy's Princess" Bride
This bride doesn't need anybody's help or support! She is quite self-sufficient and will be mostly planning everything herself. It's best to leave all the preps up to her because she has it all planned – trust us!